Last Made: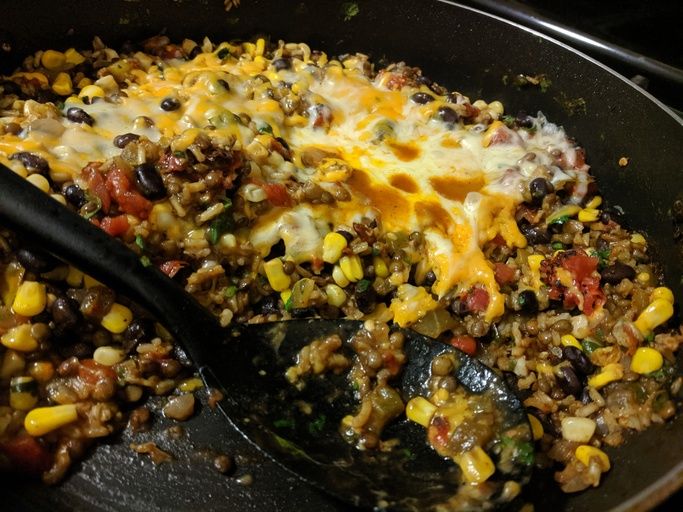 Ingredients
1 small yellow onion, diced
1 clove of garlic minced
1/2 cup uncooked long grain brown rice
1 cup uncooked French green lentils, rinsed
~4 1/2 cups low sodium vegetable broth
1 teaspoon chili powder
1/2 teaspoon ground cumin
1/4 teaspoon ground chipotle powder (optional)
Kosher salt and fresh ground black pepper to taste
15 ounce can black beans, rinsed and drained
1/2 cup fire roasted tomatoes, drained
4 ounce can diced green chiles
1 small zucchini, shredded
14 oz (1 bag) defrosted frozen corn
10 oz red enchilada sauce
3/4 cup shredded cheese, I used sharp cheddar and part skim mozzarella
Cilantro for garnish (optional)
Directions
Heat a large pot or saucepan over medium high heat.
When the pot is heated spray with cooking oil and add in the onion and garlic.
Sauté for a couple minutes then add in the brown rice and lentils.
Add in the vegetable stock, stir and bring to a boil. Pull corn out of the freezer to defrost.
Once boiling, cover and reduce the heat to low. Simmer for 30-40 minutes, or until lentils and rice are tender. If there is any excess liquid drain it.
Season the rice and lentils with salt, pepper, chili powder, cumin and chipotle powder.
Add in all of the remaining ingredients except 1/4 cup of the cheese and stir together.
Heat the mixture until the cheese is melted.
Top with the remaining cheese and cover with a lid.
Heat on low until the cheese is melted and the mixture is bubbly.